Welcome from our Division Chief
Welcome to the UC San Diego Division of Pulmonary, Critical Care, Sleep Medicine and Physiology. Our Division's mission includes providing outstanding clinical care for our patients, expanding the frontiers of scientific knowledge through our research activities, and educating the next generation of physicians and scientists so that they are optimally equipped to meet tomorrow's challenges. 
Our Division provides state of the art diagnosis and management of the full range of common and rare respiratory, critical care, and sleep medicine symptoms and conditions, including shortness of breath, cough, asthma, emphysema (COPD), interstitial lung disease, lung cancer, neuromuscular disorders that impact respiration, pleural effusions, respiratory infections, venous thromboembolism, obstructive sleep apnea, and other disorders of sleep and critical care. Our faculty deliver clinical care primarily at UC San Diego Medical Center – La Jolla, UC San Diego Medical Center – Hillcrest, and the Veterans Administration San Diego Healthcare System as well as out outpatient clinics. Many of our clinical programs are national and international destinations, including cystic fibrosis, lung transplantation, sleep medicine, and pulmonary vascular disease.
Since its establishment in 1968 by such luminaries as Drs. Eugene Braunwald, Kenneth Moser, and John West, the Division has been an international leader in respiratory research. This tradition of excellence continues to the present day, with an broad array of ongoing research activities that includes initiatives related to pulmonary vascular disease, airway immunobiology, mycobacterial and fungal infections, high altitude physiology and genetics, delirium in hospitalized patients, and basic mechanisms of sleep disordered breathing. 
We invite you to explore our website and to contact us about opportunities for clinical, educational, or research collaborations.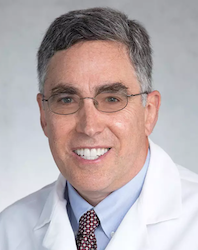 Jess Mandel, M.D., F.A.C.P., A.T.S.F.
Kenneth M. Moser Professor of Medicine
Chief, Division of Pulmonary, Critical Care, and Sleep Medicine
Vice-Chair for Education, Department of Medicine
UC San Diego School of Medicine