Welcome Letter from our Program Director
Welcome and thank you for your interest in the UC San Diego Pulmonary & Critical Care Medicine Fellowship training program.
Our program mission is to provide a well-rounded, individualized training experience that will prepare each fellow for a career in pulmonary, critical care & sleep medicine through the development of expertise in the areas of clinical medicine, research and scholarship, and education. Our goal is to provide an exceptional program that will successfully train the best and brightest academic pulmonary and critical care physicians of tomorrow.
We typically match six pulmonary and critical care fellows to our program on an annual basis. Our fellows are a diverse group of highly qualified and highly motivated individuals. The faculty at UCSD are fully committed to the success of our fellows by creating an enriching and positive learning environment through mentorship and promoting faculty and fellow engagement.
The training occurs at three main hospitals that consists of two University based hospitals and a VA medical center that serve a diverse population in the San Diego area and beyond, with patient referrals that come from all over the world seeking the expertise within the division. Clinical training provides exposure to a wide breadth of pulmonary and critical care medicine and includes experiences in pulmonary vascular medicine, transplant medicine, cystic fibrosis, interventional pulmonology, medical critical care, surgical critical care, and neurocritical care. Protected time is provided for all fellows to pursue their academic interests. Many scholarship opportunities are available to the fellows in an effort to support their various career goals, whether that may be as a basic scientist, clinical/translational researcher, or clinician-educator. Specialty research training courses and opportunities for an NIH training grant position are available to those interested in pursuing a career as a physician-scientist. Upon completion of the training program, our fellows are typically highly competitive and sought after for faculty positions as well as advanced fellowship programs.
We strive to be a world class fellowship training program. The program is continuously making changes based on fellow and faculty feedback in order to optimize the training and educational environment and achieve this goal.
Thank you for your interest in our program and please feel free to contact us with any questions.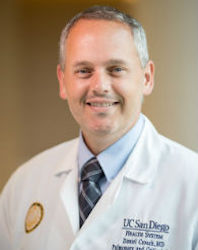 Daniel Crouch, M.D.
Associate Professor of Medicine
Program Director
Critical Care Medicine Fellowship
Division of Pulmonary, Critical Care and Sleep Medicine