ECMO Education Program
Comprehensive ECMO Education
UC San Diego Health offers a fully comprehensive ECMO education program. We have several available packages that are tailored to your hospital's needs.
All program offerings start with a free one-hour needs assessment lead by one of our team members. If interested in learning more, email us at ecmo@health.ucsd.edu.
Program Offerings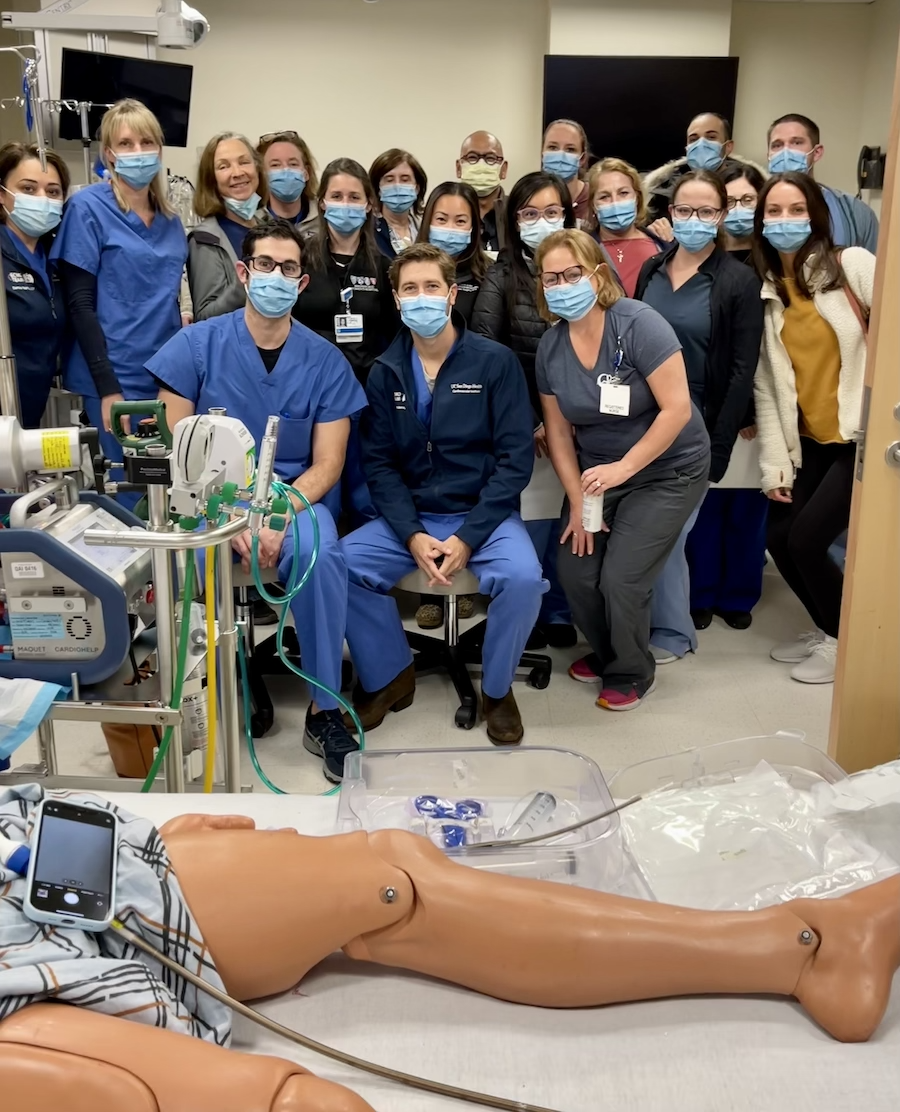 ECMO Program Development or Improvement Consulting
For organizations interested in starting a brand new ECMO program, our team can assist in guideline and policy development, documentation design, operational and staffing planning, supply and equipment selection and management, and finance management.
UC San Diego Health's guidelines, policies and other reference material are shared as a template for the health organization.
ECMO Specialist Training and Education Program
This program is designed for health organizations that want to train registered nurses (RNs) or respiratory therapists (RTs) to be the bedside ECMO specialists.
This comprehensive 20-hour program is designed to provide RTs or RNs with the education needed to manage ECMO in an ICU setting. It Includes 4 hours of self-paced pre-learning, an 8-hour day of didactic education, and an 8-hour day of high-fidelity ECMO simulation.
Our ECMO Specialist training follows the Extracorporeal Life Support Organization (ELSO) Guidelines. We are continuously improving our curriculum to include current data and literature.
ECMO Specialist Continued Education
In addition to the initial ECMO Specialist education program, we have bi-monthly virtual didactic ECMO specialist continuing education. These sessions are 2-hours long and are offered 4 times a month. Each session provides a deep dive into a focused and practical ECMO topic. Some of the topics include: VA review: system, pressures and troubleshooting, ECMO emergencies, ECMO mobility, ECMO Coagulation and Anticoagulation, VV review: system pressures and troubleshooting, Weaning and withdrawal/oxygenator failure.
We also provide training and curriculum to participating health organizations preparing them to provide their own internal simulation labs for their RN/RT ECMO specialists. We recommend that these simulation labs be offered in the opposite months as our didactic sessions. We are continuously adapting this curriculum and send updated simulation modules regularly.
Together, the continuing didactic sessions and simulation curriculum ensure ECMO Specialist knowledge and skills are maintained and continuously improved.
ECMO Provider Training
For organizations that want to educate or expand the existing knowledge of their ECMO physicians, physician assistants or other providers, we offer a tailored education program for your managing teams. These sessions are typically 3 hours long, and cover the ECMO circuit, patient management and ECMO emergencies.
ECMO Cannulation Training
For organizations interested in training their providers to cannulate, we offer in person cannulation training. This session is typically 3-hours long and includes a didactic and high-fidelity simulation training with our own custom ECMO cannulation model. Our team will review cannulation equipment, discuss vessel assessment methods and ultrasound, and review placement evaluation. The hands-on portion will prepare attendees for percutaneous cannulation.
ECMO Equipment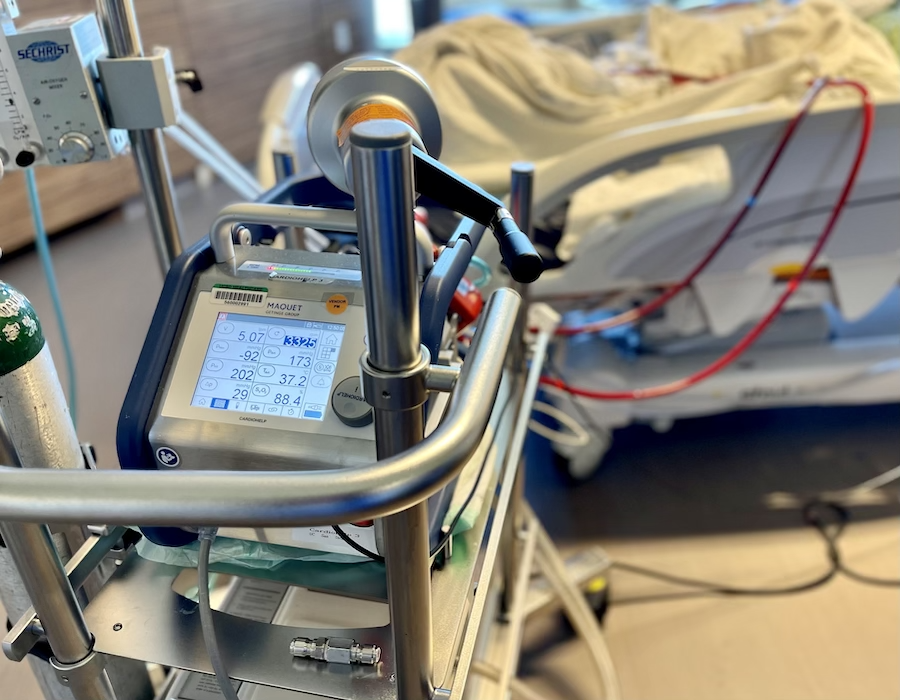 Our education team can train to any ECMO equipment. We specialize in CardioHelp System (Getinge, Marquet, Sweden).
ECMO Training Location
Organizations may visit our program and be trained at UC San Diego Health in beautiful Southern California, or our team can travel to your organization for training. Explore things to do in San Diego.
Pricing
Email ecmo@health.ucsd.edu for a free needs assessment. After the assessment we will send you a tailored education package with pricing.
Why pick us?
All members of our ECMO education team are practicing clinicians. We work with patients on ECMO every day and understand the importance of operational plan application. We love caring for patients on ECMO and are passionate about ECMO education.
We are an ELSO Gold Center of Excellence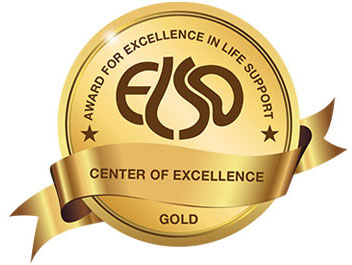 UC San Diego Health ECMO program is designated as an ELSO Gold Center of Excellence, which was awarded for extraordinary achievement in the following 3 categories:
Excellence in promoting the mission, activities, and vision of ELSO
Excellence in patient care by using the highest quality measures, processes, and structures based upon evidence; and
Excellence in training, education, collaboration, and communication
supporting ELSO guidelines that contributes to a healing environment for families, patients and staff.
We are a High-Volume ECMO Center
UC San Diego is a high-volume ECMO center able to bridge patients to LVAD or heart/lung transplantation.
More about our clinical ECMO program
About Us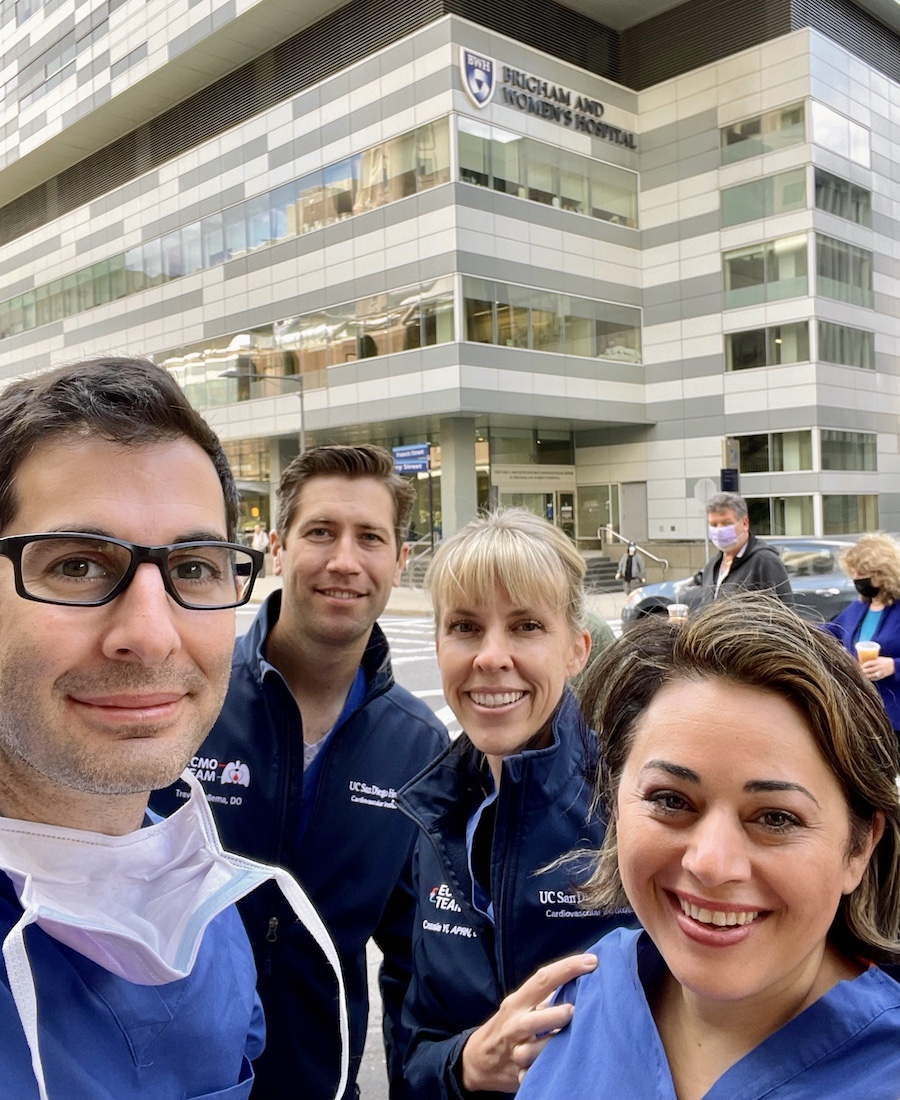 Cassia Yi, RN, MSN
Cassia is Clinical Nurse Specialist, working in nursing education for over 10 years. She has spent the majority of her career in cardiovascular education. She has been the ECMO/Acute Mechanical Circulatory System Coordinator for 4 years.
Sameria Najmaii, MS
Samira is the ECMO perfusion Lead at UC San Diego. She has been teaching ECMO for over 10 years.
Dr. Travis Pollema
Dr. Pollema is a board cerfitied cardiothoracic surgeon, and is the director of the ECMO program at UC San Diego Health. His research interests are in improving physicial therapy in patients with ECMO and bridging them to heart or lung transplantation.
Dr. Mazen Odish
Dr. Odish is a Pulmonary and Critical Care Medicine physician who completed an ECMO fellowship. His research interests are in how to set the ventilator in patients with severe ARDS who require ECMO.

Website: health.ucsd.edu/ECMO
Email: ecmo@health.ucsd.edu