Principal Investigator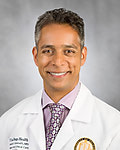 Dr. Venktesh Ramnath completed a cum laude degree in Biochemical Sciences from Harvard University, medical degree at Mayo Clinic College of Medicine, Internal Medicine residency at New York Presbyterian Hospital (Weill-Cornell), Chief Medical Resident at New York Downtown Hospital, and Pulmonary and Critical Care fellowship at Harvard (Massachusetts General Hospital, Brigham and Women's Hospital, Beth Israel Deaconess Medical Center). He has served as ICU Director at multiple hospitals across the country in both community-based and academic hospital centers before joining UC San Diego as Medical Director for Critical Care and Telemedicine Outreach. He also served as Medical Director for long-term acute care hospital partner of UC San Diego.
Lab Members
Rahul Nene, M.D.
Nancy Yuan, UCSD Department of Biomedical Informatics doctoral student
Jacob Bailey, M.D., UCSD Pulmonary Critical Care fellow
Interdisciplinary Collaborators
Andrew Lafree, M.D., Department of Emergency Medicine
Shamim Nemati, M.S., Ph.D., Department of Biomedical Informatics
Nadir Weibel, M.S., Ph.D., Jacobs School of Engineering, UCSD Design Lab
Research Focus
Applications of digital health technologies & analytics to ICU & chronic disease management

Telemedicine applications to inpatient/outpatient clinical workflows, medical education, patient outcomes, bedside experience (e.g. Tele-ICU)
Mobile health (mHealth) apps and sensors
Advanced clinical applications of machine-learning and other AI tools to COPD
Immersive (augmented/virtual reality) technologies

Bioethics and patient & family empowerment in the ICU
Recent Representative Publications
Digital Health Technologies:
Ramnath VR, Hill LH, Schulz J, Mandel J, Smith, A, Morris, T, Holberg S, Horton LE, Malhotra A, Friedman LS. Designing a critical care solution using in-person and telemedicine approaches in the US-Mexico border area during COVID-19. Health Policy OPEN 2021 Aug 11;2:100051. Doi: 10.1016/j.hpopen.2021.100051.
Ramnath VR, Hill LH, Schulz J, Mandel J, Smith, A, Morris, T, Holberg S, Horton LE, Malhotra A, Friedman LS. An in-person and telemedicine "hybrid" system to improve cross-border critical care in COVID-19: the experience of one academic medical center. Annals of Global Health, 87(1), p.1. DOI: https://doi.org/10.5334/aogh.3108.
Leverone NA, Ramnath VR, Munce D, Raphelson JR, Ma J, Akuthota P, Tomaszewski C, Sell RE, Crotty-Alexander L, Akrami KM, Malhotra A. Critical care education in a pandemic through Tele-ICU. ATS Scholar, Nov 2020. DOI: https://doi.org/10.34197/ats-scholar.2020-0132BR
Ramnath VR, Kairaitis K, Malhotra A. The challenge of COVID-19 has accelerated the use of new data-sharing technologies. Respirology 2020 Aug; 25(8):800-801.
Ramnath VR and Malhotra A (2019). Remote Proactive Physiologic Monitoring in the ICU. In M. Koenig (Ed.), Telemedicine in the ICU (pp. 21-44). Springer Nature Switzerland.
Ramnath VR, Ho L, Maggio L, Khazeni N. "Centralized Monitoring and Virtual Consultant Models of Tele-ICU care: A Systematic Review." Telemedicine and e-Health 2014;20(10):936-61.
Ramnath VR, Khazeni N. "Centralized Monitoring and Virtual Consultant Models of Tele-ICU care: A Side-By-Side Review." Telemedicine and e-Health 2014;20(10):962-71.
Bioethics:
Ramnath VR. Moral Injury. Ann Intern Med 2021 Jun 29. doi: 10.7326/M21-0997
Ramnath VR. Additional study needed for crisis standards of care development and application in smaller, rural, under-resourced hospitals. Comment published online on JAMA Network OPEN, April 13, 2021. https:// https://jamanetwork.com/journals/jamanetworkopen/fullarticle/2777683
Ramnath VR, Lafree A, Staats K, Tomaszewski C. Promoting racial and health equity in COVID-19 by leveraging empathic interpreters, trained liaisons, and cross-institutional physician leadership. Ann Am Thorac Soc 2021 Mar 17. DOI: https://10.1513/AnnalsATS.202101-042LE
Wardi G, Tainter CR, Ramnath VR, Brennan JJ, Tolia V, Castillo EM, Hsia RY, Malhotra M, Schmidt U, Meier A. Age-related incidence and outcomes of sepsis in California, 2008-2015. J Crit Care 2021;62:212-217. PMID 33429114. DOI: https://doi.org/10.1016/j.jcrc.2020.12.015
Ramnath VR, McSharry DG, Malhotra A. Do no harm: reaffirming the value of evidence and equipoise while minimizing cognitive bias in the COVID-19 era. Chest 2020 May 28;S0012-3692(20)31612-3.
Ramnath VR, Zar HJ, Malhotra A. Addressing the "What do we have to lose? Just give the drug" rationale: making the case for clinical trials and against off-label use in COVID-19. J Thorac Dis 2020 Jun;12(6):3031-3034.
Johnson J, Schmitz E, Ramnath V, Weibel N. Nuture-Empower-Support: A Human-Centered Approach to Understand and Support ICU Families. Proceedings of the 13th EAI International Conference on Pervasive Computing Technologies for Healthcare, May 2019, pp. 119-128.
Herreros B, Ramnath VR, Bishop L, et al. "Clinical Ethics Protocols in the Clinical Ethics Committees of Madrid." J Med Ethics 2013;0:1-4.